Hey there party people!
I don't know about you guys, but man this week is flying by for me! With lots to look forward to this weekend, I thought it may drag, but it surely has not! This Saturday I have the Women's Running Series half marathon and my wonderful sister-in-law is coming in town! I cannot wait!
Anyways, let's get to our Wednesday usuals, shall we?
Weekly Wednesday Roundup:
What I Ate Wednesday Sunday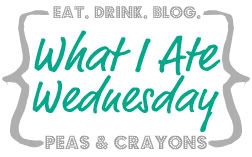 So you know that one time, where I almost turned into a pumpkin…yeah. On the first official day of fall, it was a day dedicated to pumpkin. My Costco deals may or may not have had something to do with the pumpkin madness!
Pre-Run Fuel
Rice cake, creamy NuttZo, Energy Bits
*Discount code "NBR-15" for NuttZo online orders
*Discount code "NBRunner" for Energy Bits online orders
Workout
11 Mile Run
Post-Run Fuel
Recovery Smoothie + Healthy Bites 
I made a Healthy Bites order last week, and Lindsay sent them with no delay! I ordered a dozen of a variety of "whey good" bites for after my long runs. This week I had a dark chocolate pumpkin, strawberry cherry, and vanilla coconut banana - so delicious!
Breakfast
Perfect Pumpkin Protein Pancakes
My pancakes got topped with a dollop of plain Greek yogurt and a peanut butter and chocolate peanut butter drizzle. Perfect. 
Pancake Sunday is my favorite!
Snack
Lunch
Salad Powerbowl
My huge salad beast consisted of:
Romaine
Spinach
Tuna
Scrambled Egg Whites
Chickpeas
Black Olives
Tomatoes
Raspberries
Avocado
Cinnamon
I also had a piece of toast that was topped with cottage cheese, tomatoes, avocado and black pepper.
Snack
Pumpkin ProYo
I made a version of Laura's pumpkin pie protein bowl by mixing 1/2 cup Plain Greek yogurt with 1 Tbsp French vanilla protein powder, 2 Tbsp pumpkin, cinnamon, nutmeg, and pumpkin pie spice, frozen for one hour and topped with peanut butter chia pudding, crumbled up rice cake, and creamy NuttZo!
Dinner
I finally made Lindsay's Mac, Cheese, and Chickpeas! I thought I had peas in the freezer, but since I only had a Mexican mix and a random mixed vegetable bag, I just used the random mixed veggies! It had peas, corn, green beans, carrots, and edamame.
I also made a creamy pumpkin "cheese" by combining 1/4 cup pumpkin with 2 Tbsp nutritional yeast and 1 Tbsp almond milk. I cannot even begin to tell you how good it was! I could have eaten it by the spoonful!
Snack
Nut Butter Stuffed Mug Cake with ProYo and chocolate PB chia pudding
I've pretty much been obsessed with mug cakes recently, and especially the nut butter stuffed version! I just can't help myself, it's so darn good!
All this day was missing was a yummy pumpkin spice latte from Starbucks! How could I not stop there? ;)
A very special thank you to Jenn for hosting this party each week! Head on over to her page to check out more of the WIAW party!
***
Questions Of The Day
What is the best thing you've eaten recently?
What is the best "deal" you've gotten?