Well…this week is certainly flying by! And while we're on the subject…so is this month! Can you believe May is already almost at the end?! 
I hope you guys are having a great week so far! In case you're catching up from last week, here's what we've been up to: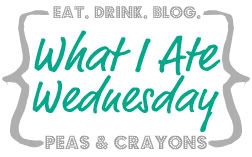 What I Ate Wednesday Monday
I'm still going strong with the "meatless Monday" goal, so today's eats are all vegetarian friendly! 
Breakfast
Apple Cinnamon French Toast Oatmeal
Last week when I had my mixed berry French toast oatmeal, it sparked my French toast oatmeal craving to repeat over and over again! So Monday I made my apple version, which was fantastic!
I let it cool a bit before removing it from my bowl and I just loved how it popped out like a real baked French toast! You could also bake this in the oven for the same result if you have a little more time on your hands!
Snack
Dunkin' Donuts Coffee
It was Monday so coffee was required. I drink my coffee black with cinnamon and a couple ice cubes…best way in my opinion!
Ginger Popcorn
I've been loving this popcorn snack!!
Lunch
Bean Salad
I made a massive salad full of romaine, spinach, kale, cucumber, tomato, bell peppers, edamame, Great Northern beans, and pinto beans.
I also had a pear Chobani to end my meal for a little sweetness and a little extra protein!
Snack
Baby Carrots, Hard Boiled Egg, Almonds
Veggie power, healthy fats, and protein perfecto!
Dinner
Eggplant Burgers
I saw Kristen blog about these eggplant tempeh burgers, and asked her to send me the recipe. She included some tempeh and swapped out the liquid smoke for barbecue sauce. I took her up on these change-ups and made these burgers just like she did!
I served my burgers in romaine lettuce cups, a sweet potato and peanut butter on the side, along with some fresh asparagus from Matt's mom's garden!
The burgers were super tasty! 
Snack
Chobani Bite with Chocolate NuttZo, Banana NuttZo Mini Muffin topped with PF NuttZo and a Frozen PB&J Bite
Yes, I am still 6 years old and really enjoy bite sized food! It's so easy to snack on and pack up…plus things are cute mini sized :) 
Thank you to Jenn for hosting this great WIAW party! Head on over to her site to check out more daily eats!